Meet Rewinch. The Fastest & Lightest Electric Winch Ever Created
(and so small and portable, it will fit inside your backpack)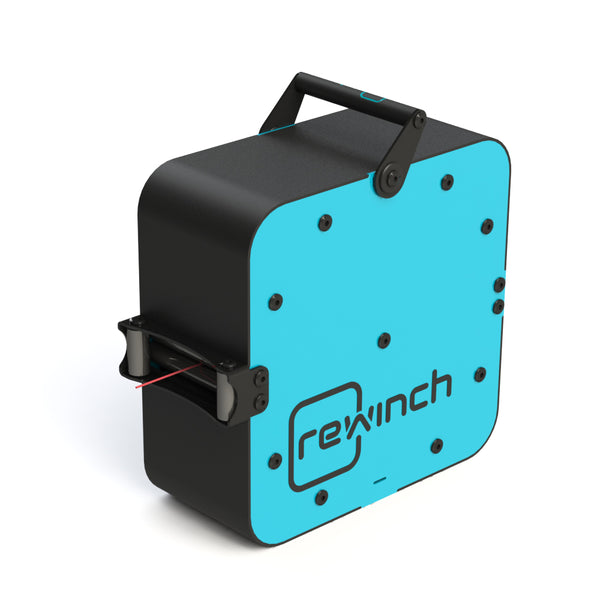 Performance

Get 20-30 rewinches on a single battery charge. Easy deep water starts with over 295kg (650lbs) pulling force.

All-Round

Whether you're a beginner, intermediate or pro, enjoy a consistent pull at any set speed between 0-80km/h (50mph).

Reliable

Made for the cold and heat using marine grade materials. Maintenance free to use anywhere, anytime.

Portable

Airline approved and travel friendly. At only 15kg (30lbs), turn any spot into a Rewinch playground.
Ride. Rewinch. Ride. Repeat.
Whether you are a wakeboarder, snowboarder, kite surfer, cable skier, wake skater, snow skater, foiler, skateboarder, bmx rider, mountain biker, paraglider or even a parent who wants to pull their kids around on a sled, Rewinch is made for you: Easy to use, a lot of fun, and will instantly turn any spot into a playground of potential.
The Nuts & Bolts
- Rewinch is the world's lightest and fastest action sports electric winch
- Rope towing capacity: 200m to 800m
- Top speed (standard): 40km/h (25mph)
- Top speed (with speed mod): up to 80km/h (50mph)
- Pulling force: up to 295kg (650lbs) for easy deep water start
- Smooth and consistent pulls from start to end (±3% linear set speed)
- Rewinch wireless remote packed with tech and safety features
- From 20 to 30+ rides on a single 50 minutes battery charge
- Modular and fully upgradable hardware
- Bi-directional capable with 1R2D add-on (your portable system 2.0)
- Overall size: 350x350x155mm (14x14x6in)
- Weight: 15kg (30lbs) and fits in a backpack 
Continuous Improvement

Rewinch is a modular hardware project, meaning you can modify the hardware and adapt rewinch to your own application. We give give support on this modifications and existing Rewinch riders benefit from several other open-source ecosystems that are helping to improve Rewinch. Subscribe to our newsletter to receive updates when upgrades and accessories are released.