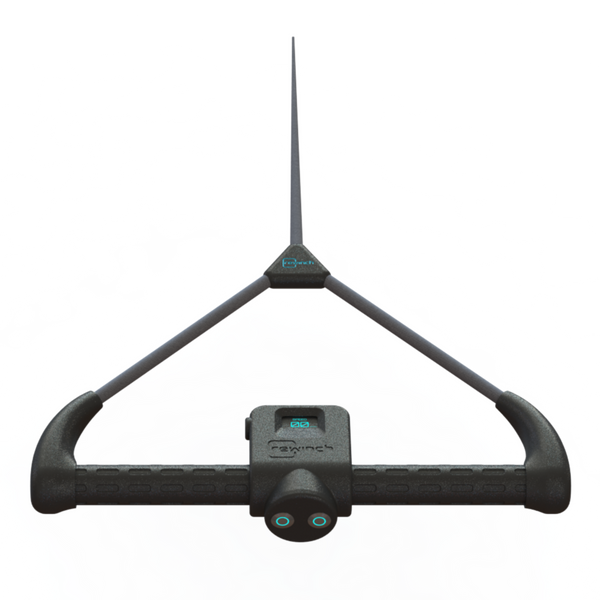 Rewinch Rider Remote

If you want to get a "solo" experience or if you just like to control your pull and build your skills, then rewinch rider remote is for you!
It's a fully waterproof device and has smart features and quick changeable settings so you can adjust it to the activity or sport you are going to do. With the LCD display you can easily see the selected settings and some ridding metrics and other useful data.
And, it is detachable! You can use it with any handle of your choice, a broomstick or on your hands. You can also use it centered or towards one side, so you have your hand centered with the handle to make all more confortable.
Grab yours now and meanwhile, take a look at the main features:
FULLY WATERPROOF (IP67) – You can safely sink your rider remote in the water (including saltwater). Just make sure you close the USB charging port cap tightly and you are ready to go!
BROAD WIRELESS RANGE – The remote range reaches the full length of our ropes so you can control your ride from any point*. 
DETACHABLE – No need to use Rewinch handle bar, you can clip the Rewinch rider remote to your favorite handle bar or even to a broomstick! If you want to use it as an operator's remote and give it to a friend to control your ride, just remove it from the handle and grab it with hands. You can also install it off-center so you can keep your hand centered with handle and the rider remote towards one side
HANDS-FREE MODE – Do you want to do that crazy trick and pass the handle behind your back? Activate the hands-free mode and Rewinch will keep running for the pre-defined time so you can release the rider remote buttons and do your tricks! It will auto-stop when your reach the defined end-points.

RPT (ROPE PRE-TENSION) - Press one button to create rope tension and avoid jerky pulls.
AUTO DEEP-WATER START - Define your favorite ramping time and get that perfect deep-water start without even thinking about it.
LCD DISPLAY – Quick adjust your settings and visualize your ridding data as speed, distance, battery level and other useful things.
USER PROFILE SETTINGS – Configure your favorite settings and store them on different profiles.
TWO BUTTONS FULL THROTTLE RANGE – With only two buttons you can adjust your speed on-the-go as if you had a full throttle range. Press button A to accelerate until the predefined speed. While riding, quickly press button B to increase the speed. Long press button B will decrease the speed.
COMPATIBLE WITH ALL REWINCHES – Either you have an older or a newer Rewinch model the Rewinch rider remote will be compatible with all.
*NOTES: The Rewinch Rider Remote is sold as an accessory and should not be considered as the main rewinch controller. The operator's wireless remote is the default and standard controller for the rewinch and the only that will provide you all the basic and necessary features to fully operate rewinch. If the remote is placed under water it will block the communication. Best practices should be taken into account in order to achieve the long range communication (placing the node antenas in adequate position and orientation). Surroundings or other radio devices can also interfere with the communication range. Users must have operator's remote to ensure correct operation and rewinch will not be sold without it. The rider remote itself does not float but depending of your tow handle, you can achieve floatability. Rewinch tow handle not included.